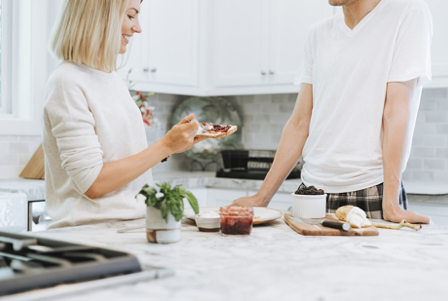 Image courtesy of Pixabay
Article courtesy of:
Natalie Jones
natalie_jones@homeownerbliss.info
Are you and your partner ready to cohabitate?  Making that decision is often exciting and nerve-wracking at the same time.  Thankfully, keeping a few dollar-stretching strategies in mind means outfitting your new place can add to the fun without adding to your stress.
Out with the old
Every household has basics, so most couples discover they have several duplicate items when they move in together.  Take some time to sort through what you both have, decide what you need to acquire, and think about what items are due for an upgrade.  Pay special attention to tablecloths, gadgetry, cookware, and the like.  NBC News points out kitchen items in particular need routine replacement, with non-stick cookware warranting extra consideration, since worn or peeling cookware should be thrown out and replaced.  Make some notes to ensure you have all your basics covered, and develop a shopping list for the items you need or want to purchase together.  You can buy everything from new linens to small appliances from retailers like Kohl's, and on top of a great selection, Kohl's promo codes help you make the most of your budget.
Color your world
With your essentials in order, addressing aesthetics is a logical next step.  Many couples add a fresh coat of paint to their new digs to give it their personal touch, so sit down together and discuss what shades in which rooms sound appealing.  Elle Decor points out many of the hottest color trends incorporate hues from the great outdoors, such as shades borrowed from woodlands in earthy browns, rich greens, and deep blues.  If you never painted before or haven't done so as a joint project, brush up on basic how-to instructions, gather your supplies, and do your shopping someplace like Ace Hardware, where you can find everything you need for your project as well as take advantage of great deals.
Bedroom basics
Refreshing your bedroom can help you get started on the right foot.  Beyond the walls, consider revamping the color scheme in hues you both like, whether it's soothing tones of teal and tan, cheerful coral and fuschia, or bold black and red.  Think accents, sheets, and even furniture colors.  And while you're at it, consider investing in a new mattress and foundation.  It's the perfect symbol of your decision to share space.  Some experts recommend replacing mattresses every seven to 10 years anyway, so if yours falls into that age range, all the more reason to start anew.  Then select appropriate linens to fit your new bed and colors.  You can shop online for the whole shebang from stores like Overstock, offering everything you need to dress your bedroom in style, just check out their current sales to ensure you snag great prices.
Sharing storage
Divvying up your closet space can seem simple at first, but many couples quickly discover making room for two sets of clothes can be a challenge.  There are plenty of ways you can improve the storage you have by adding drawers and shelving, or you can install a closet system.  If you or your partner is pretty handy, Family Handyman points out you can install a DIY closet system in a weekend, which can be a fun project to take on together.  Home Depot offers a wide variety of closet organization solutions, which you can DIY or have installed for you.  Take some measurements, make some sketches, and check Home Depot's current offers to see what will work well in your space as well as your budget.
Combining your lives can be challenging, so make sure putting your home together isn't a major financial stressor.  Look for smart and economical ways to outfit your home, make decisions together, and add some new things to signify your change.  When you're taking that next step, it's a great way to keep things light, positive, and fun.