When considering downsizing your home, there are issues and stressors you may have never encountered. For seniors, this is a situation that sometimes comes from necessity.
And now, as the coronavirus pummels assets and incomes, downsizing may be more necessary for many as a way to reduce spending.
Already, as the number of baby boomers entering retirement continues to climb in the US, more people were considering downsizing than ever. And as many of these individuals have been empty nesters for years, some probably should have downsized already to save money.
Reasons for downsizing include:
Economic necessity.It's common for many older adults to be faced with unexpected medical expenses, rising home insurance premiums and rising utility costs. Selling the house and moving into a more affordable space is often a solution.
Health concerns.Many seniors downsize to a home where at-home care is more available and there are fewer everyday obstacles to maintaining good health.
If you're tired of doing all the housework that comes with a larger home, you're not alone. A lot of retirees choose smaller homes where upkeep is less expensive.
An existing plan to relocate for retirement.Of those planning to move again for retirement, about half of those surveyed said they'd like to downsize. A projected 10 million retirees will downsize over the next decade.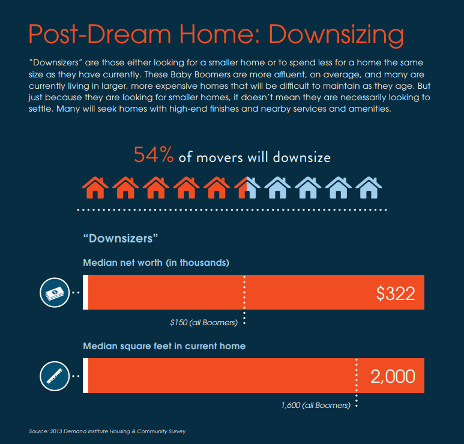 Source: 2013 Demand Institute
Here are some key considerations for those thinking about downsizing:
Budgeting for a downsize
Choosing to downsize to a smaller home in retirement isn't always motivated by economics but is always affected by it. Even for retirees in a high tax bracket, downsizing is often a goal for practical reasons. A smaller home, particularly in a multifamily building or development is far easier to maintain. This is a priority for people as they age and are less physically able to take care of a larger home.
Regardless of why you're considering a new home, putting together a well-thought- out budget you can stick to is a wise first step. Some key considerations:
What are you paying now? What will you pay in a downsized home?
Make a list of all the expenses associated with your current home. This should include: mortgage payments, utility bills, maintenance costs, HOA fees, and everything else you pay on a monthly basis. You'll be able to calculate these same expenses for your new, smaller home (or at least come up with a realistic estimate).
If you need to finance a downsized home, figure out the monthly mortgage payment for your new home, note its list price minus your down payment and plug that amount into Bankrate's mortgage calculator. You'll be able to change the mortgage term, down payment amount, and mortgage rate—giving you an idea of what your mortgage payment will be at the new home you're considering.
After coming up this number, you should also be able to determine a rough estimate for utility costs. If you're thinking about moving out of state, take a look at the U.S. Energy Information Administration's recent numbers for average monthly bills for single family homes by state. If you're downsizing but also moving to a state where energy costs are on average higher, the savings may not be as great as you'd hoped. However, differences in energy costs can also work in your favor.
Let's say you currently live in Connecticut, where average energy bills are among the highest in the nation–about $142 per month. If you move to Florida, where monthly energy bills are $123 on average, you'll save a couple hundred dollars a year on energy alone.
Find out if your target home has an HOA with a monthly maintenance charge. Add these expenses up and the overall cost benefits of downsizing will become clear.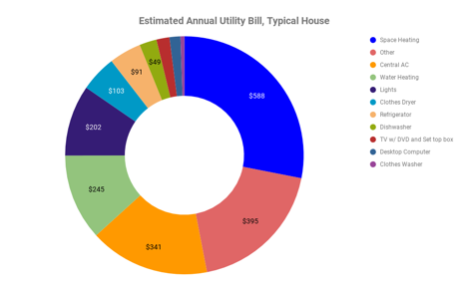 Source: 2016 Energy Star data
What's your current income?
Preparing for a move is a great reason to reassess your financial big picture. Everyone's financial outlook is unique, so taking the time to piece together all sources of income you have, as well as savings accounts and more, will help you develop a game plan.
Critical questions to ask yourself:
If you're not yet retired, how realistic is your goal retirement date?
What will be your retirement income streams, and how much will these provide in monthly income?
Based on this income, how much home can you afford?
Do you have enough assets to afford a cash purchase?
What will it cost to sell your home and buy another?
Most retirees have been through the home-selling process before, but many haven't in years, maybe decades. Take into account the extra fees and expenses that come into play when selling a home:
Realtor's commission. The fee you'll have to pay your realtor is typically 5-6% of the sale cost.
Closing costs. Depending on the real estate market you live in, you may be asked to take care of closing costs, which include property taxes, attorney fees, and other miscellaneous fees.
Inspections and home repairs. Buyers want thorough home inspections before signing on the dotted line; if any structural, electrical, or plumbing issues come up, you may have to cover those expenses.
Mortgage payoff. If your loan has a penalty for paying off the mortgage early, you'll have an extra expense you may not have already accounted for. The sum you make from selling the home will mostly go into paying off the current mortgage.
The responsibility of some of these costs can shift from homeowner to homebuyer, so knowing exactly where you stand with these fees is a critical component to your downsizing budget.
Although there are many reasons for downsizing, budgeting carefully to make your new home less expensive than your current home is a huge benefit. It's easy to lose track of all the small expenses that come with a move, but with a little diligence, you can save big in the long run.
What's the plan?
Once your budget is in order, you'll have to get the wheels turning on a strategy. There are a lot of moving parts in play, so breaking down your plan into simpler terms is a good place to start:
Will you use an agent or opt to sell the home yourself?
Keep in mind that selling the home yourself will entail a whole new list of responsibilities and tasks that may delay your moving process beyond your original timeline.
Will you be selling a car?
If you don't do much driving, don't want the responsibility, do want the money, or have a health concern keeping you from driving, selling a car is a wise decision. Many retired couples who have two cars and will sell at least one when downsizing as a way to collect some cash and free up space.
What other assets do you have?
A bittersweet, yet rewarding, part of downsizing is getting rid of stuff you no longer need. Whether that means valuables you no longer need or junk taking up space in your garage, let it go! You'll be surprised at how freeing it is to clear out the basement and get paid for the stuff you haven't used in ages.
Finding a place to live
Would you prefer to stay in the same area or are you excited about moving to a new place? If you're moving somewhere new, take into consideration all the amenities you'll need now and later on. Check for proximity to hospitals, grocery stores, and other essentials. Downsizing should make life easier—if you have to travel 45 mins to weekly doctor appointments, think about how that will affect your quality of life.
Considering all housing options
Single-family home — With a smaller single-family home, you can expect a similar lifestyle to the one you live now, but with fewer responsibilities and less clutter.
Condo/townhome — Condos and townhomes are excellent options for retired seniors who value their freedom and self-sufficiency and also want to get off the hook for property maintenance. Don't forget to take a look at HOA fees.
Assisted-living community — Assisted living communities provide housing, meal prep, and health-related services for seniors. Many include luxurious amenities and a more thorough level personal care. Assisted living is an option for seniors with health concerns.
Move in with your adult children — If you'll be living with family, any financial burdens you had in your own home will be eased. Being close to children and grandchildren is another benefit of moving in with family. Not enough room at their home? Do some research on "Granny Pods," the latest trend in senior living. Granny Pods are essentially tiny homes that can be built in the backyard of your adult child's home. Seniors who want to live with their kids can buy a Granny Pod and be close to home without feeling like a burden.
Finding a new mortgage
Downsizing to a new home in your retirement years puts you in a unique position when it comes to finding a mortgage.
After selling your old home and extra assets, you'll be in a position to apply for a decent short-term mortgage with manageable monthly payments. Be sure to check mortgage rates often and track trends in your new area to secure the best loan you can. You'll most likely be interested in one of the following:
10-year mortgage. The shortest-term mortgage and usually the one with the lowest rates, ten-year mortgages are great options for those who want to quickly accrue equity in their home and pay less interest than they would with a longer mortgage. Monthly payments will be higher than with other term-lengths, but if it is still lower than the payment you have at your current home, it's worth it.
15-year mortgage. Fifteen-year terms will also carry lower mortgage rates and APRs than longer term mortgages, though obviously not as low as with a ten-year term. If you want to get the house paid off as quickly as possible but you aren't comfortable with the monthly payment associated with a ten-year mortgage, consider a fifteen-year term instead. You'll have a little more leeway in monthly spending while still paying off the home relatively quickly.
Reverse mortgage. If you want to tap into your current home's equity before moving out, consider a reverse mortgage. Your bank will submit payments to you based on a percentage of the equity you have in your home and you won't need to immediately pay it back. Loans don't need to be paid back until the homeowner sells the home or dies, making reverse mortgages an intriguing retirement tool for seniors who are thinking about downsizing to a new home.
Article contributed by Griffin Miller, Bankrate
6/29/20